Passenger off- and on-boarding area BUS-STOP
It is situated on Chvalšinská Street (road I/39 Č.Budějovice-Volary) after the departure from the town centre in the destination of Volary, Prachatice. It is the only regular place for the travellers´ safe getting in and getting off the coach in Český Krumlov from where they can manage to walk to the town centre.
BUS-STOP terminal can be reached by following guidance system. Terminal is located approximately 300m before BUS-Parking. When arriving from Volary and Prachatice 300m behind BUS-parking.
BUS-STOP terminal operates year-long. During the day there is an operator.
The total capacity is 8 parking spaces and maximum allowed time for getting in and getting off the bus is 30 minutes. If you stay longer than the allowed time limit, there is an extra fee 300 CZK/hour.

BUS-STOP terminal is in condition which needs major reconstruction. Nowadays the nearest toilettes are on car park "P1" (Jelení Garden), which is about 250 m walk to the centre. The nearest fast food is located in the area of BUS-STOP.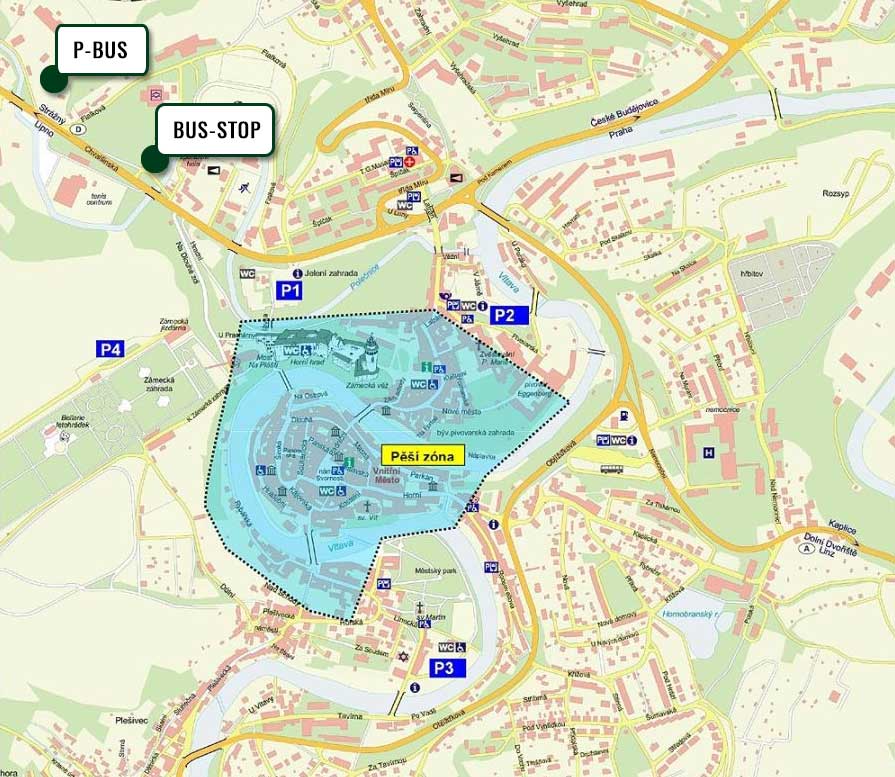 Walk distances in metres from BUS-STOP terminal to the chosen targets:
Infocentre (main square) - 750 m - 10 min
The castle (ticket office) - 750 m (slightly uphill) - 15 min
Monasteries Český Krumlov - 870 m - 12 min
Egon Schiele Art Centrum - 670 m - 10 min
Regional Museum - 970 m - 15 min